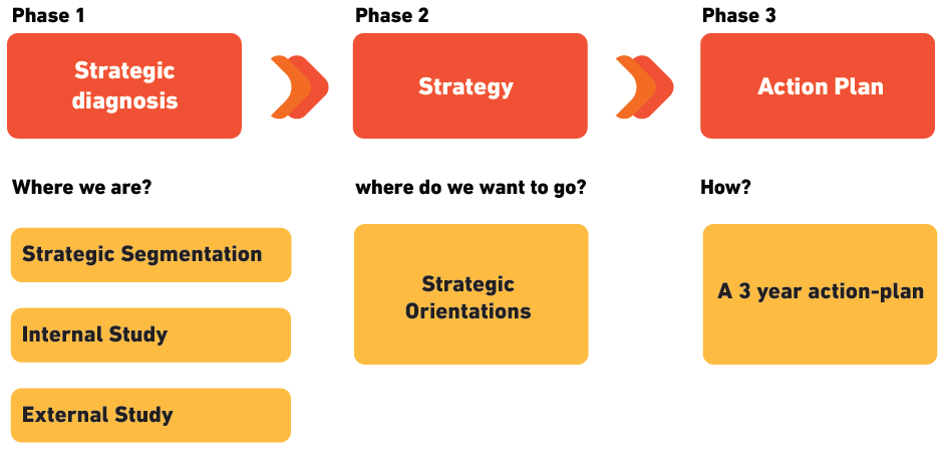 When a company wishes to define its strategy, it should first break down its activities into Strategic Business Areas which constitute the main products/markets couple, accounting for the essence of its turnover. This segmentation serves as the foundation of any strategic analysis as each SBA will be subjected to a specific diagnosis. The latter comprises an external dimension by which the company environment is analysed in terms of opportunities and risks, through a study of the market (or more specifically, offer and demand) and the regulatory, political, social, and technological frame (PESTEL Analysis). In its internal dimension, the diagnosis serves to identify the strengths and weaknesses of a company in terms of its resources, whether they are human, technical informational or organizational. This preliminary analysis serves to establish the SWOT matrix which allows assessment of company performance in these different SBAs in terms of competitive position and market attractiveness (BCG and Mac Kinsey Matrices).
Once the diagnosis has been made, the next task consists in determining differentiated strategic orientations by SBA and eventually in identifying new strategic spaces which are referred to as DAP (or, Potential Business Areas).
The strategic orientation will then be transformed into objectives which reflect expected outcomes. The latter are themselves presented in terms of key performance indicators designed to ease follow up on their realization. In order to implement the strategy, a company will produce an Action Plan, which goal is to clarify the tasks to be accomplished, the official in charge, the timing, and the pathway conducive to the attainment of the objective(s) set.
 
Do you want to invest in a promising niche, ensure the sustainability of your company and stimulate its growth? Whatever the nature of your activity and the size of your company, Attijariwafa bank offers you a range of support and advisory services, as well as adapted financing solutions